Mayer Lemon Buns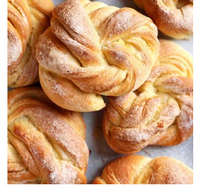 Sea Level Recipe:
Dough
3 1/2 cups (490 g) flour, divided
1 package (7 g) Red Star PLATINUM Yeast
1/4 cup (50 g) sugar
1/2 tsp salt
1 cup (240 g) low-fat milk
1/4 cup (56 g) unsalted butter, at room temperature
1 large egg, at room temperature
Filling
1/3 cup Meyer lemon curd
1/4 cup (50 g) sugar
2 tsp Meyer lemon zest
Topping
1 Tbsp (14 g) unsalted butter, melted
sugar
5000 Foot Altitude:
Dough:
18.2oz Flour
7g yeast
1.9oz sugar
1/2 tsp salt
9.2oz milk
1/4 cup butter
1 egg
Filling:
1/3 cup Mayer lemon
1.9oz sugar
2 tsp lemon zest
Topping;
1 tbsp butter
Sugar
Combine 2 cups (280 g) flour, yeast, sugar, and salt in a large mixer bowl; mix on low speed until incorporated. Heat milk in a microwave-safe measuring cup for 45 seconds to 1 minute, until very warm (120-130°F). Add warm milk, butter, and egg to flour mixture and mix until combined; mix in remaining 1 1/2 cups (210 g) flour. Switch out the flat beater for a dough hook, and knead dough for 5 minutes until smooth and elastic. The dough is ready when it feels tacky but doesn't stick to your fingers (if necessary, add additional flour 1 tablespoon at a time while kneading).
Place dough in a large bowl coated with nonstick spray and cover with plastic. Let the dough rise in a warm place until doubled in size, about 40 minutes. To check if dough has doubled, lightly flour two fingers and press them down into center of dough. If indentations remain, gently press down dough; cover and let rest 5 minutes. Line two baking sheets with parchment paper.
Turn dough out on a lightly floured board and roll into an 18 × 12-inch rectangle. Spread Meyer lemon curd gently over the dough, leaving a 1-inch border at the edges. Fold over the right section of dough. Place sugar and Meyer lemon zest in a food processor and pulse for one minute. Sprinkle Meyer lemon-sugar over dough, pressing in gently with the rolling pin. Fold over the left section of dough (you will now have a 12 × 6-inch rectangle) and press the edges of the rectangle gently with the rolling pin to seal.
Dust rectangle with flour and roll out dough again into a rectangle. Use a sharp knife to cut the dough into 1-inch strips. Twist each long strip and make a spiral, then tuck the ends through the center to "knot" and place on prepared baking sheets. Cover loosely with plastic and let rise in a warm place until doubled in size, about 25 minutes. While the morning buns rise, preheat oven to 350°F.
Brush morning buns lightly with melted butter and sprinkle generously with sugar. Bake for about 30 to 32 minutes, until golden. Remove from oven and place on a wire rack to cool before serving.